I've joined yet another social networking site (alongside MySpace, Facebook and VampireFreaks). This one's called
Fashion Central
and is rather fabulous. I joined about a week ago, and it seems cool so far. As the name suggests, it's all to do with fashion, and there's all kinds on there - designers, jewellers, models, photographers, etc. Seemed like a good place to network and promote oneself, so I joined.
I actually found out about it from the lovely
Bunny
who posted
her profile
on the Etsy forums. So thank you to her!
Also, I've started to make a few changes to
my Etsy shop
. It will have a darker theme, with richer colours used to photograph my work on, and some new items that are more gothic in style, for example this fella:
I'm trying to get some great colour combinations going in the thumbnails, just so the shop is as visually appealing as it can be. Rich, strong colours very occasionally punctuated by a pale blue or something, like these: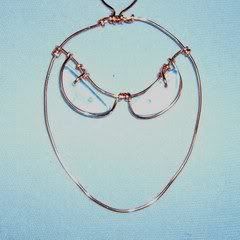 Which just happen to be the newest items in
my shop
:)